Welcome to Justamere Farm: A 130+/- Acre Country Estate in Monroe County, West Virginia
Posted by Moises Martinez on Wednesday, June 21, 2023 at 3:00 PM
By Moises Martinez / June 21, 2023
Comment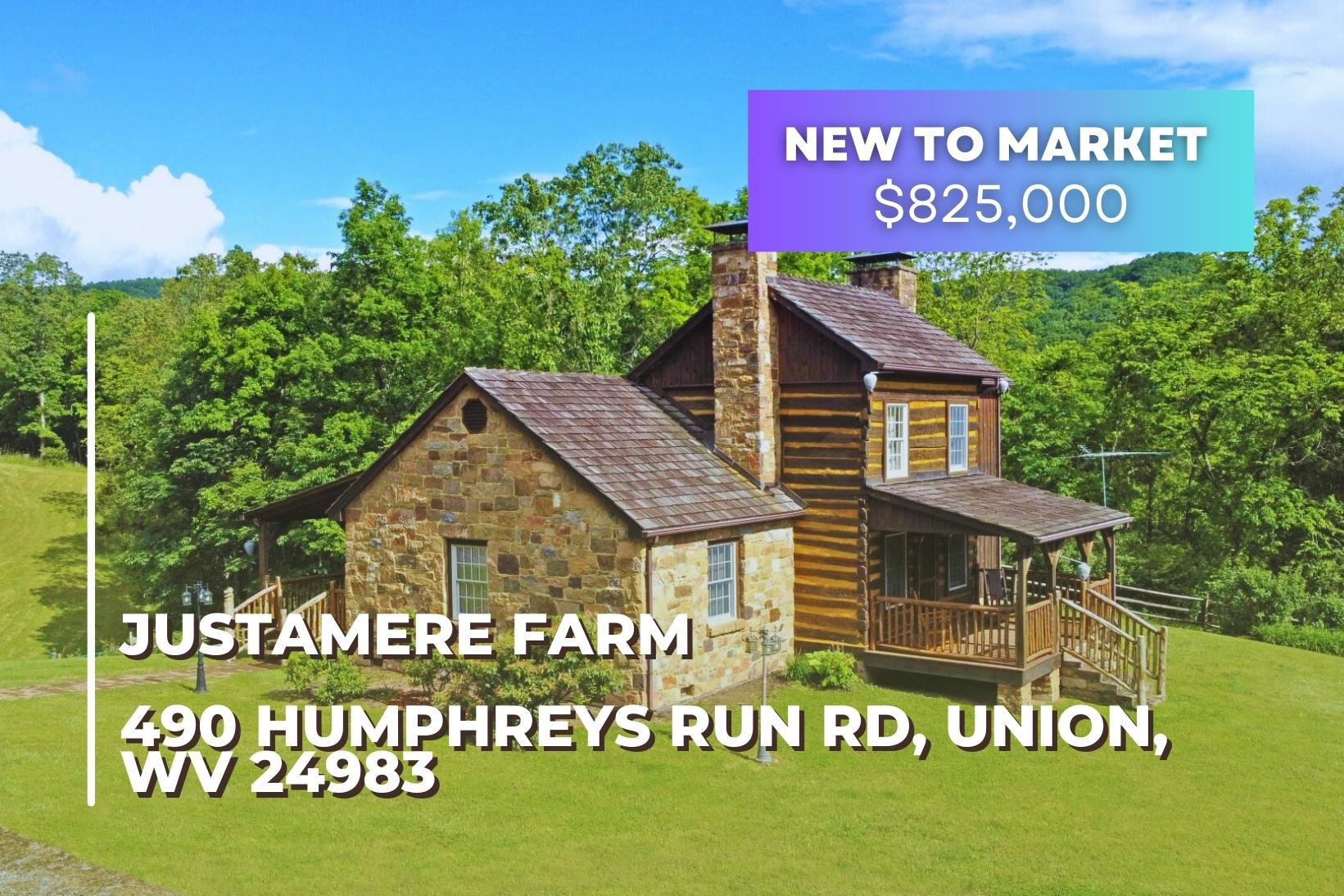 Welcome to Justamere Farm: A 130+/- Acre Country Estate in Monroe County, West Virginia
If you're seeking the ultimate in privacy and a haven for recreational activities, look no further than Justamere Farm. This enchanting 130-acre country estate boasts a picturesque blend of agricultural fields and a mature hardwood forest, providing the perfect backdrop for equestrian pursuits, livestock raising, gardening, hiking, nature viewing, and stargazing.
Nestled in a quiet community, Justamere Farm is splendidly situated on a high ridge in Monroe County, West Virginia. Conveniently located near I64 and US 460, this property is ideal for those seeking a peaceful rural lifestyle while still being within reach of modern amenities and easy commuting options.
Upon arrival at Justamere Farm, you'll be greeted by a custom-built log and stone home spanning approximately 1,900 square feet. Crafted with meticulous attention to detail, this vintage hand-hewn log home exudes warmth and charm, making everyone feel right at home. The open-concept design creates a welcoming ambiance, and the large covered front and back porches invite you to relax and enjoy the breathtaking views.
Inside, you'll discover three bedrooms, two full baths, and a total of seven rooms, providing ample space for comfortable living. The large kitchen features custom-built hickory cabinetry, granite countertops, and a kitchen island with a granite top. The living spaces are adorned with logs and drywall, and the first floor boasts a spacious master bedroom with a four-piece master bath and walk-in closets. The living areas are heated by large native fieldstone wood-burning fireplaces, which not only provide warmth but also add to the rustic charm of the home. The property also includes a detached 2-stall garage, perfect for storing vehicles and equipment.
Justamere Farm offers more than just a beautiful home; it presents an exceptional natural environment. Humphreys Run, a blueline stream and tributary of Indian Creek, meanders through the property for approximately half a mile, providing a serene water feature and potential for recreational activities. The land is teeming with wildlife, with a rich and diverse resident population that includes deer, black bears, eagles, hawks, and turkeys. The dynamic forest, featuring old-growth trees estimated to be 200-300 years old, interweaves with the farm fields, creating an exciting recreational landscape.
This property is not only a sanctuary for nature enthusiasts but also offers excellent infrastructure and modern conveniences. State-maintained paved roads ensure superior access, while the property's gravel private driveway leads you through the land to the home. Cell phone coverage is reliable, and FedEx, UPS, and USPS delivery services are readily available.
Justamere Farm's location in Monroe County is a treasure trove of scenic, cultural, and historic value. With its proximity to the New River, Bluestone Lake, historic Union, Peterstown, and Lewisburg's jet airport, you'll have endless opportunities for outdoor adventures, water activities, and exploring the area's heritage.
Whether you're looking for a full-time residence, a vacation retreat, or an investment opportunity, Justamere Farm offers low taxes, low population density, and an exceptional quality of life. Embrace a rewarding permaculture lifestyle, breathe in the pure mountain air, and immerse yourself in the tranquil beauty of Justamere Farm.