Unveil the Charming Old Turkey Creek Farmstead in Monroe County
Posted by Moises Martinez on Friday, June 23, 2023 at 11:15 AM
By Moises Martinez / June 23, 2023
Comment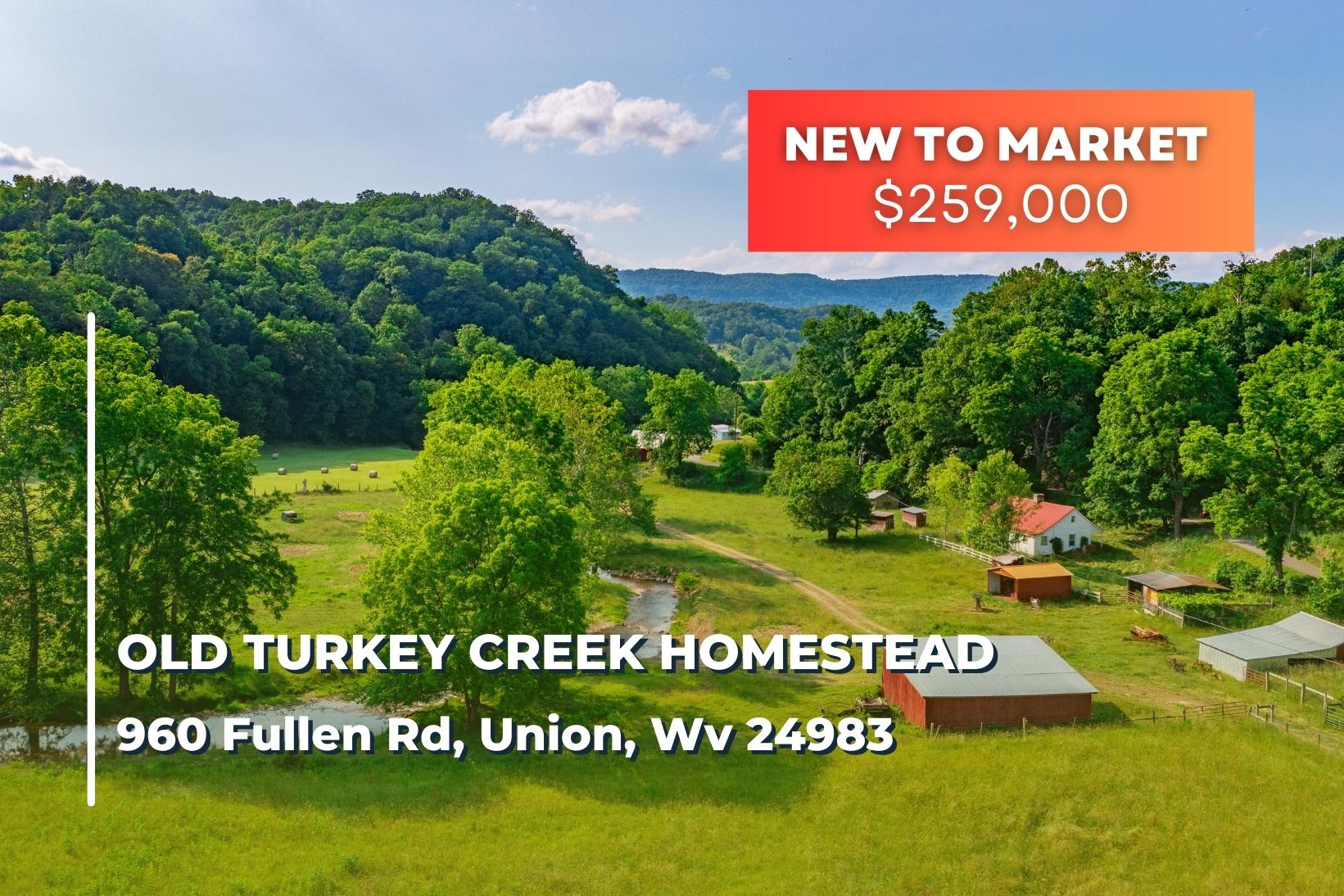 Welcome to the Old Turkey Creek Farmstead, a remarkable 54.26+/- acre property located in the heart of Monroe County, just south of Union. This multi-use farming and recreational paradise offers endless possibilities, from raising livestock and growing crops to creating your dream residence. With its rich history, scenic landscapes, and convenient location near Union and other attractions, Old Turkey Creek Farmstead is an exceptional opportunity you won't miss.
A Multifaceted Property with Residential Potential:
The Old Turkey Creek Farmstead is a versatile property that has served as a home to generations of farmers. With its expansive 54.26+/- acres, this land has been utilized for raising cattle, sheep, and various crops throughout the years. Moreover, this property presents an excellent residential opportunity, with the potential to breathe new life into the old home or embark on an exciting repurposing project. The home's red metal roof, in good condition, has kept it stable over the years, adding to its appeal.
Turkey Creek: A Picturesque Waterway and More:
One of the standout features of the Old Turkey Creek Farmstead is the presence of Turkey Creek itself. Meandering through the property for approximately 1800 feet, or a third of a mile, this broad stream offers more than just scenic beauty. Turkey Creek has been a reliable water source for livestock and sustains a diverse range of aquatic life, making it a haven for fishing enthusiasts. Whether you're farming or seeking recreational opportunities, Turkey Creek enhances the allure of this remarkable property.
Supporting Farming Operations:
In recent years, Old Turkey Creek Farmstead has primarily focused on cattle farming. To facilitate farming operations, the property features well-maintained fencing and cross-fencing. Additional structures, including a barn and sheds, provide practical support for various farming activities. The presence of an old corn crib near the home serves as a testament to the property's rich agricultural history.
Union: A Historic Town with Vibrant Amenities:
Located just south of the county seat in Union, Old Turkey Creek Farmstead benefits from its proximity to the nearby historic town. Union offers an array of amenities, including restaurants serving delicious cuisine, a public pool for summer fun, shopping opportunities, and essential services. The town also hosts engaging events such as the summer Farmers Day, an annual Autumn festival, and a festive Christmas parade, ensuring a vibrant community experience for residents of the farmstead.
Nearby Attractions: Moncove Lake State Park and Lewisburg:
Nature enthusiasts and outdoor adventurers will appreciate the proximity of Moncove Lake State Park to Old Turkey Creek Farmstead. This picturesque park offers a wide range of recreational activities, allowing you to explore the great outdoors to your heart's content. Additionally, the nearby town of Lewisburg, renowned as the Coolest Small Town in America, presents a plethora of events throughout the year. From the Lewisburg Chocolate Festival to the Taste of our Town and the Lewisburg Literary Festival, there's always something exciting happening in Lewisburg. Moreover, this charming town boasts fine dining restaurants, delightful local eateries, unique shopping opportunities, and convenient access to outdoor retreats like the Greenbrier River Trail.
If you're searching for a beautiful property with a rich farming history and exciting potential, look no further than the Old Turkey Creek Farmstead in Monroe County. Embrace the opportunity to own a multi-use property with residential possibilities, enjoy the serenity of Turkey Creek, and immerse yourself in the vibrant nearby communities of Union and Lewisburg. Don't miss your chance to explore the allure of the Old Turkey Creek Farm