Luxury Living in the Heart of West Virginia's Mountains: Bluestone Country Estate
Posted by Moises Martinez on Tuesday, July 18, 2023 at 1:02:48 PM
By Moises Martinez / July 18, 2023
Comment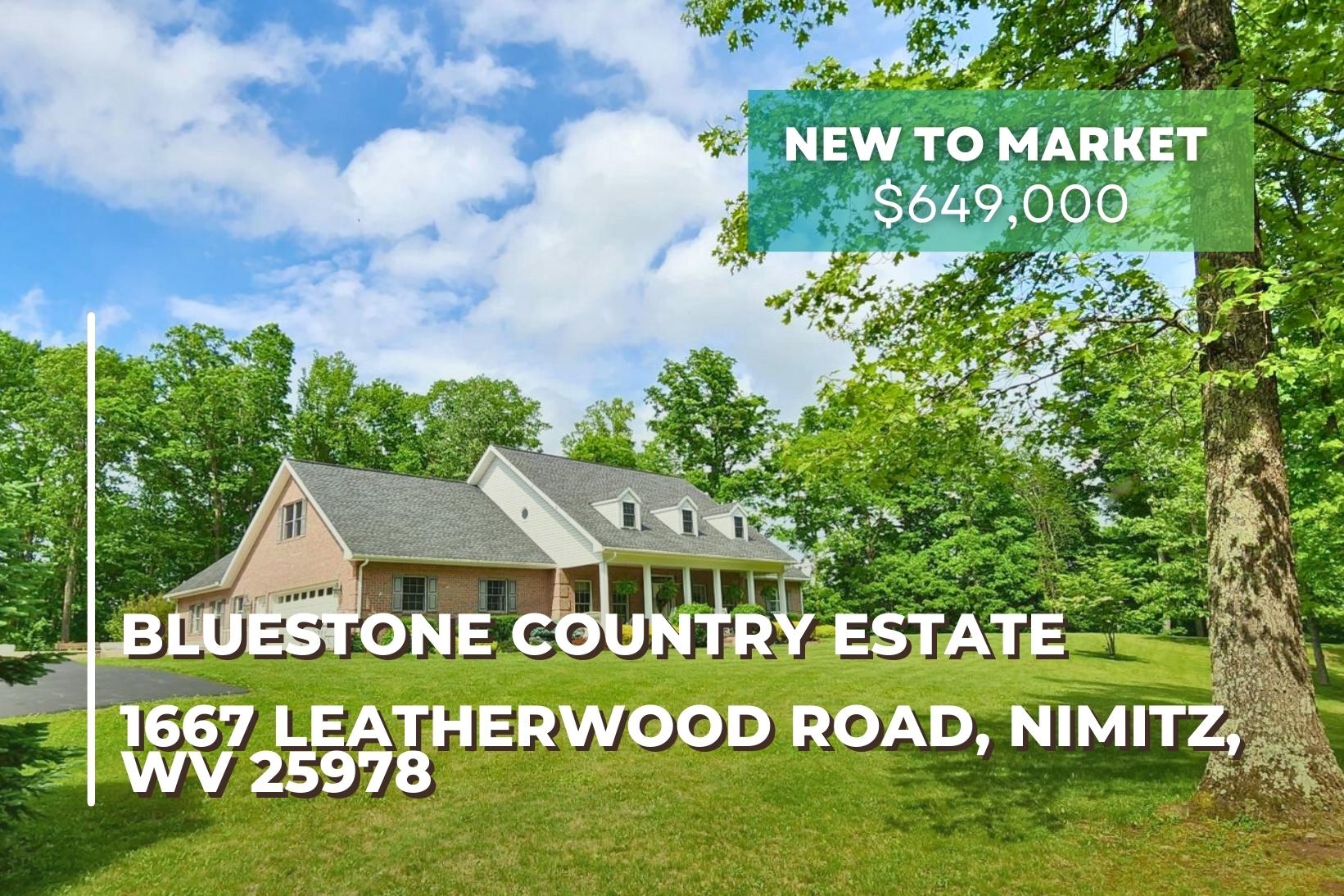 Luxury Living in the Heart of West Virginia's Mountains: Bluestone Country Estate
Experience the epitome of luxury living amidst the breathtaking beauty of West Virginia's mountains at Bluestone Country Estate. This hidden gem is located just minutes away from the magnificent 70,000-acre New River Gorge National Park and Preserve. Nestled on a hilltop with panoramic views, this stunning custom-built home offers the perfect blend of elegance, comfort, and proximity to outdoor adventure. Join us as we delve into the features and measures that make Bluestone Country Estate a truly remarkable destination.
Impeccable Design and Features:
Bluestone Country Estate boasts a custom-built 6,764 +/- sqft home with exquisite design elements. Step inside to discover Appalachian red oak floors, a gas fireplace, and a central whole-home vacuum system that ensures convenience and comfort. The well-appointed kitchen features stainless steel appliances, a conduction cooktop, double ovens, and custom Maple wood cabinetry, providing the perfect space for culinary delights.
Luxurious Living Spaces:
With 7 bedrooms and 4 ½ baths, Bluestone Country Estate offers ample space for relaxation and entertainment. The main-floor Master suite provides a spacious bedroom with wood floors, a large 4-piece bathroom with a jetted tub, and a walk-in closet. Every detail has been carefully considered to create an environment of luxury and tranquility.
Proximity to Natural Splendor:
One of the most remarkable aspects of Bluestone Country Estate is its proximity to the 70,000-acre New River Gorge National Park and Preserve. Explore the park's rugged beauty, scenic trails, and breathtaking vistas, all just a short drive away. Whether you're an outdoor enthusiast or simply seeking solace in nature, this location offers endless opportunities for adventure and relaxation.
Secluded Retreat with Modern Convenience:
Bluestone Country Estate gives you the feeling of being remote in the mountains while being conveniently located just 15 minutes away from town. The paved private drive, lined by Appalachian hardwoods, leads you to this secluded property that offers privacy and serenity. Yet, you'll have easy access to all the amenities you need for comfortable country living.
Awe-Inspiring Views and Surroundings:
Perched on top of a hill, Bluestone Country Estate offers unparalleled views of nearby ridges and valleys. Surrounded by towering oaks and white pines, the house is immersed in a park-like setting that enhances the sense of tranquility and natural beauty.
Bluestone Country Estate presents a rare opportunity to experience luxury living in the heart of West Virginia's mountains. With its custom-built design, impeccable features, and proximity to the awe-inspiring New River Gorge National Park and Preserve, this estate is a true masterpiece. Whether you seek adventure in the great outdoors or a peaceful retreat away from the bustle of city life, Bluestone Country Estate is a destination that will captivate your senses and provide an unforgettable experience of luxury and natural splendor.