Lot 57 Pine Ridge Way Caldwell, WV 24925
Posted by Moises Martinez on Tuesday, September 5, 2023 at 6:30 PM
By Moises Martinez / September 5, 2023
Comment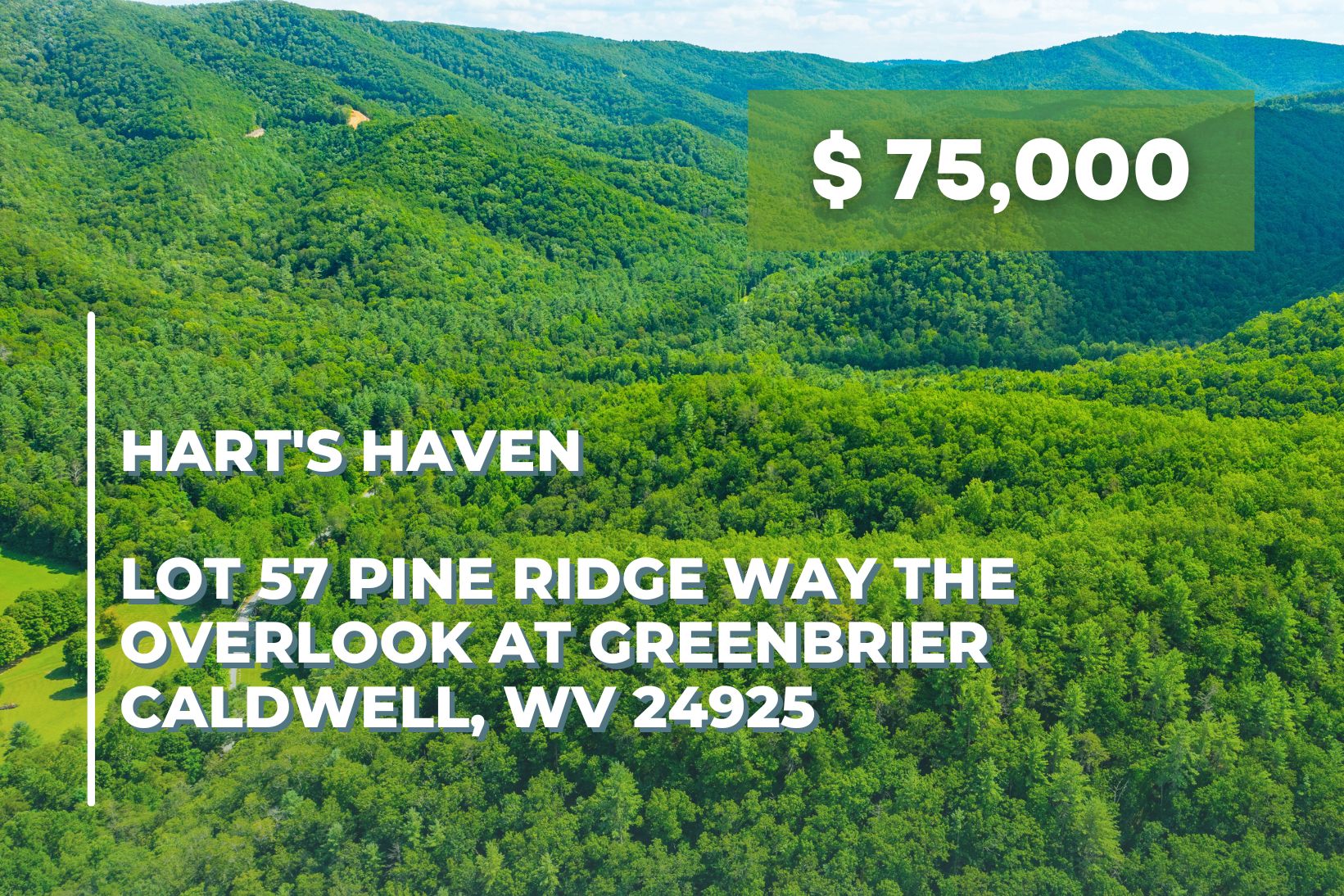 Lot 57 Pine Ridge Way Caldwell, WV 24925
Hart's Haven 36.45 +/- acres of level ground, mountains, forest, and streams in a gated private subdivision close to The Greenbrier Hotel and Lewisburg, WV. The Overlook at Greenbrier is designed to be a private access-controlled community with large mountain lots that provide a feeling of living amongst nature. Lot 57 is unique and highly desirable for several reasons. It has access from the main entrance of The Overlook and it has access directly to Harts Run Rd. There are only a handful of Overlook parcels that border Harts Run Rd and this has the most level and easily accessed building site. As well as being dual access this property features a private mountain with a peak overlooking Greenbrier State Forest and the whole Harts Run valley.
The Overlook at Greenbrier: Your Private Mountain Retreat
The Overlook at Greenbrier is more than just a community; it's a sanctuary for those who crave privacy and a deep connection with the outdoors. With its sprawling mountain lots, it provides residents with the sensation of living in harmony with the natural world.
Lot 57: Where Dreams Meet Reality
Lot 57 stands out as a jewel within The Overlook for several compelling reasons:
Prime Location: This lot offers exclusive access from the main entrance of The Overlook, ensuring convenience and privacy.
Direct Access to Harts Run Rd: Notably, Lot 57 provides direct access to Harts Run Rd, a scenic route that opens up new possibilities for exploration.
Level Building Site: Among the limited Overlook parcels that border Harts Run Rd, Lot 57 features the most level and easily accessible building site.
A Mountain Paradise with Spectacular Views
As if the dual access weren't enough, this property boasts a private mountain with an awe-inspiring peak that overlooks the Greenbrier State Forest and the entire Harts Run valley. Imagine waking up to panoramic views of untouched wilderness every day.
A Symphony of Nature
The property's serene back valley is a haven for nature enthusiasts. A crystal-clear stream flows gracefully from the property's rear, cascading over stair-stepped shale waterfalls into inviting plunge pools. It's a tranquil oasis where songbirds provide the soundtrack, and sunlight filters through the lush tree canopy.
Explore Your Surroundings
From Hart's Haven, you're just a short stroll away from the Greenbrier State Forest, offering a plethora of outdoor activities, including hiking and biking trails, a Disc Golf course, and scenic picnic shelters.
Convenience at Your Doorstep
Despite its idyllic seclusion, this property is conveniently located only 7 minutes from Interstate 64, making it easily accessible. Additionally, both the charming town of Lewisburg and the vibrant White Sulphur Springs are just a 15-minute drive away.
Act Fast - Your Dream Property Awaits
Don't miss the opportunity to make Hart's Haven your own. Contact Grist Real Estate today to schedule a showing because properties like this one tend to sell quickly.
Discover the Best of West Virginia
Harts Run serves as a perfect midpoint between the enchanting Lewisburg voted the Coolest Small Town in America, and the alluring White Sulphur Springs. Lewisburg boasts a diverse array of events, including the Lewisburg Chocolate Festival, Taste of our Town, the WV State Fair, and the Lewisburg Literary Festival. Its downtown area is a haven for foodies, art lovers, and boutique shoppers.
White Sulphur Springs is renowned for the world-famous Greenbrier Hotel and Casino and offers a mix of boutique shops and restaurants. It's also the gateway to outdoor adventures in destinations like the Greenbrier River Trail, Monongahela National Forest, and Blue Bend State Park. If skiing is your passion, Snowshoe Resort, the best skiing spot in the Mid Atlantic, is just a short drive through the scenic mountains to the North.
Hart's Haven is your opportunity to embrace the West Virginian lifestyle, surrounded by nature, culture, and adventure. Don't let this dream slip away; seize it today!