Historic Brick Estate and Log Cabin in White Sulphur Springs | Charming Homes for Sale
Posted by Moises Martinez on Thursday, May 25, 2023 at 3:30 PM
By Moises Martinez / May 25, 2023
Comment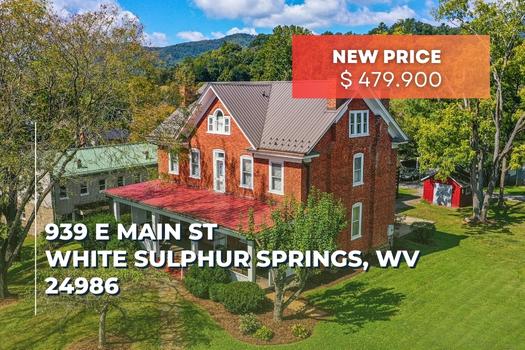 🚨NEW PRICE🚨
🏠James Wylie House
📍939 E Main St. White Sulphur Springs, WV 24986
💲479,900
Discover White Sulphur Springs' Historic Brick Estate and Log CabinWelcome to White Sulphur Springs, a charming town with a rich history and a vibrant community. Nestled on a knoll surrounded by mature trees and a large lawn, this historic brick estate and log cabin offer a unique opportunity to own a piece of history while enjoying modern comforts. With its prime location within easy walking distance of all the amenities, these homes are truly a treasure. Let's delve into the exquisite details of these remarkable properties.
The Historic James Wylie House: A Timeless Grandeur
The centerpiece of this property is the magnificent James Wylie House, a warm and inviting seven-bedroom, six-bath home built in 1819. This meticulously preserved house boasts large, mantled fireplaces in every sitting room and bedroom, exuding a sense of grandeur and elegance. With three floors connected by two unique staircases, the James Wylie House offers a seamless blend of history and modern living.
Unparalleled Charm and Luxury
Features and Amenities:
Step inside the James Wylie House, and you'll be greeted by spacious rooms with eleven-foot ceilings, adorned with luxurious wood trim and original wood flooring. The ground floor is perfect for entertaining, featuring a formal dining room, living room, and sitting room, all bathed in natural light from the large windows. For quieter moments, retreat to the cozy library with built-in bookshelves and a fireplace.
The second floor presents four large bedrooms, each showcasing tasteful antique armoires, furniture, and light fixtures. On the top floor, exposed hand-hewn beams create a unique atmosphere in two spacious bedrooms. You'll also find a Parisian-style bathroom and breathtaking elevated views of the town.
A Chef's Dream Kitchen and Elegant Upgrades
The Gourmet Kitchen:
The kitchen in the James Wylie House is a culinary enthusiast's dream, featuring custom cabinetry, a large chef's island, and a spacious pantry. Prepare meals with ease and elegance while enjoying the charm of this historic home.
Recent Upgrades and Exterior:
The house has undergone recent upgrades, with the exterior receiving a refresh. All the wood trim, soffits, and window frames have been stripped, primed, and painted with premium products, ensuring long-lasting protection from the elements. The attention to detail and preservation of the home's original character make this property truly exceptional.
Historic Log Cabin: A Delightful Retreat
Alongside the James Wylie House, you'll find a stand-alone log cabin that dates back to 1794. This beautifully restored cabin features the original logs, a modern kitchen, and a large fireplace surrounded by a native stone mantle. Perfect as guest quarters or as a successful Air BnB-style property, this cabin adds a touch of rustic charm to the estate.
Explore White Sulphur Springs and Beyond
White Sulphur Springs' Attractions:
Living in White Sulphur Springs means immersing yourself in a community rich in attractions and events. From the world-famous Greenbrier Hotel and Casino to local gems like The Schoolhouse Hotel and Big Draft Brewhouse, you'll find endless opportunities for entertainment and relaxation.