Escape to Nature's Mountain Playground: A Cozy Retreat in Cass, WV
Posted by Moises Martinez on Monday, April 24, 2023 at 5:00 PM
By Moises Martinez / April 24, 2023
Comment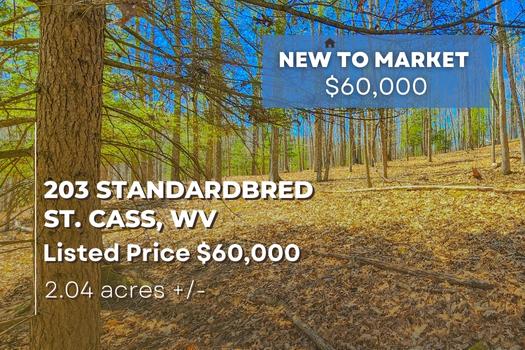 Escape to Nature's Mountain Playground: A Cozy Retreat in Cass, WV
🚨NEW TO MARKET🚨
📍203 Standardbred St. Cass, WV
💲60,000
Looking for a retreat where you can escape the hustle and bustle of daily life, while still enjoying all the charm and adventure that the great outdoors has to offer? Look no further than 203 Standardbred St in Cass, WV. This stunning cabin sits atop a sprawling two-acre lot in Pocahontas County, the heart of "Natures Mountain Playground."
Inside, you'll find a cozy two-bedroom cabin that can comfortably accommodate up to six people. The primary bedroom and bunk room provide plenty of sleeping space, while a fold-out futon ensures that everyone has a comfortable place to rest. The cabin is fully equipped with everything you need to make it a base of operations for all your outdoor adventures, including hunting, hiking, and fishing.
During the cooler months, a wood stove provides ample warmth, while the surrounding acres of hardwood forest provide shade and relief during the summer. Take a stroll down to the Greenbrier River and River Trail, just a five-minute walk from the cabin, or explore the nearby Seneca State Park. And if you're in the mood for some relaxation, kick back on the covered front porch with a porch swing or gather around the fire pit for a memorable evening with loved ones.
But the adventure doesn't have to stop there - this cabin is just a stone's throw away from some of the most popular attractions in the region. Head to Snowshoe Mountain Resort, where you'll find not one, but two ski resorts in the winter, as well as an extensive mountain bike park and golf course in the warmer months. The Green Bank Observatory is another can't-miss attraction - this state-of-the-art radio observatory is located in the National Quiet Zone and is home to dozens of radio telescopes, including the world's largest fully steerable radio telescope.
The historic town of Cass is also just a short distance away - it's widely known for its Scenic Railroad State Park, as well as being home to the largest subterranean waterfall in West Virginia and Virginia. And if you're feeling adventurous, head out to the Cranberry Wilderness - with over 47,000 acres of roadless wilderness, it's the perfect place for hikers, bikers, and trout fishermen alike.
What are you waiting for? Schedule your visit to 203 Standardbred St and enjoy the beauty and adventure of West Virginia.