358 Hartwell Rd, Hinton, WV 25951
Posted by Moises Martinez on Thursday, October 19, 2023 at 6:59:16 PM
By Moises Martinez / October 19, 2023
Comment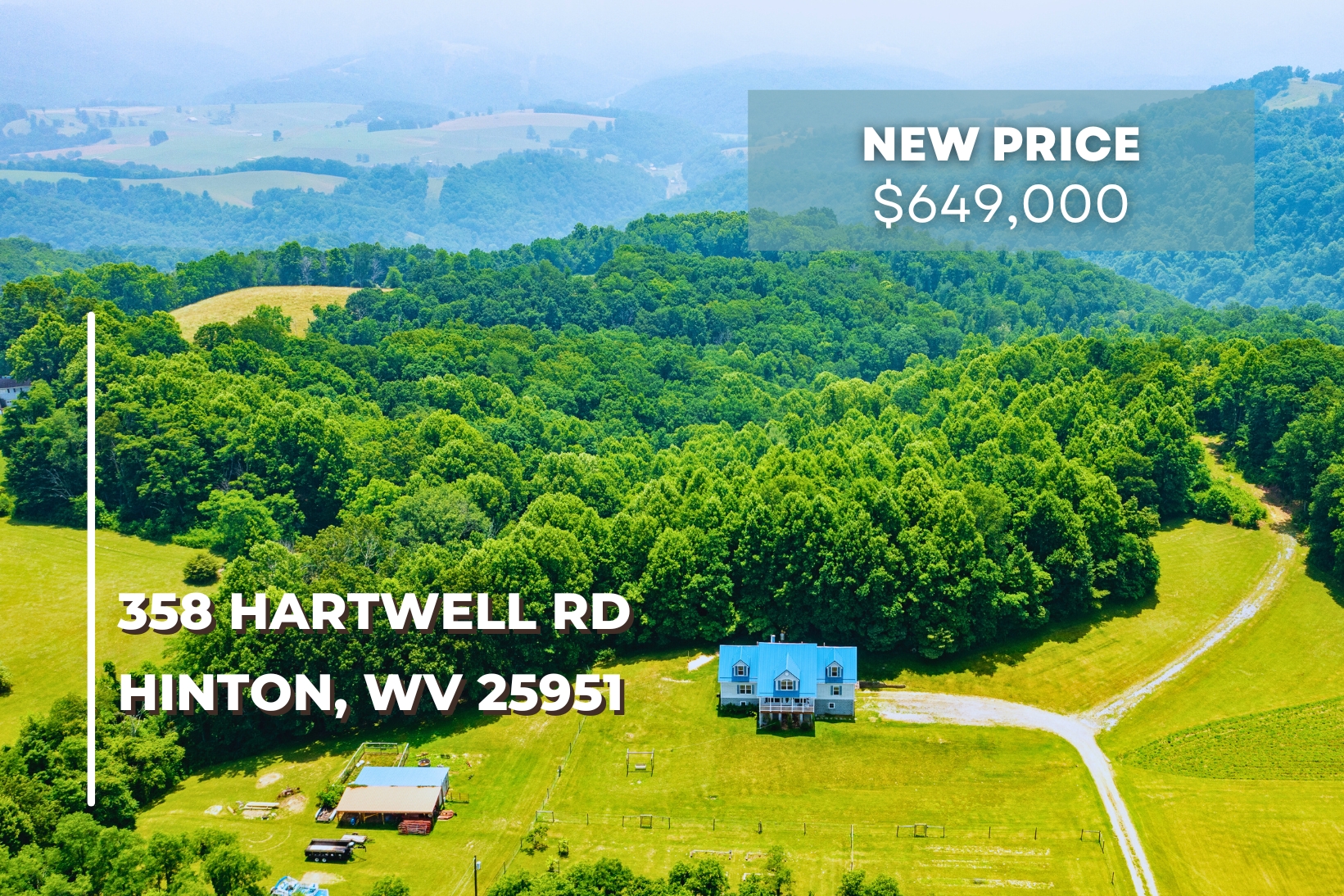 Upon Mt. Zion 118+/- acre picturesque farm with 2-story, 3-bedroom contemporary home, fenced pastures, and garden. Located on Zion Mountain, minutes from downtown Hinton.
This beautiful 118.3-acre property on a quiet country road outside Hinton features a spacious 3-level home, rolling pastures, woodlands, raised garden beds, and potential additional building sites. The home, set on a low rise at the end of a winding lane, presently offers one-level living but includes a large upper level with 6 windows that could be easily finished to double the home's living space. This property also boasts a sizeable tract of land located just across the road, featuring a conveniently cleared and easily accessible homesite. With an abundance of space at your disposal, there is plenty of opportunity for outdoor exploration and adventure.
A Glimpse of Paradise
Imagine living on a serene 118-acre property, surrounded by lush green pastures, woodlands, and raised garden beds. The picturesque landscape is nothing short of a paradise, beckoning you to embrace a tranquil lifestyle. This sprawling estate is not just a place to call home; it's an opportunity to connect with nature and enjoy the simple pleasures of life.
A Home to Admire
As you arrive at 358 Hartwell Rd, you'll be greeted by a charming 2-story contemporary home, designed to harmonize with the stunning surroundings. The home is a masterpiece of craftsmanship and comfort. With three levels of living space, it provides ample room for a growing family or those who love to entertain.
Spacious Living
The open-plan great room is the heart of this home, seamlessly combining the living, kitchen, and dining areas. It's an ideal space for family gatherings and socializing. The living room features a cozy wood-burning fireplace with a raised stone hearth, offering a warm and inviting atmosphere. With four windows framing peaceful farm views, you'll find yourself lost in the beauty of the landscape.
A Culinary Haven
The kitchen is a culinary haven with pine cabinetry, laminate counters, and a 2-level island counter that can comfortably seat 4-to 6 for light meals and snacks. Equipped with Frigidaire Gallery appliances, including a gas range, a wall-mounted microwave, and a dishwasher, this kitchen is both functional and stylish. Whether you're a seasoned chef or just enjoy whipping up a quick meal, this kitchen has got you covered.
A Dreamy Master Suite
The home boasts three spacious bedrooms, but the master suite is a true standout. Featuring a carpeted corner bedroom with three windows, a ceiling fan, and a generous walk-in closet, it's a peaceful retreat within your own home. The master bath is equally impressive, offering a jetted soaking tub, a tiled shower, and a double vanity with porcelain sinks. It's the perfect place to unwind after a long day.
Abundant Space
The main level also includes a laundry room with a large utility sink, cabinets, and shelves, making daily chores a breeze. There are also two storage closets and hookups for a washer and dryer, adding to the convenience of this home.
The Untapped Potential
The upper level, though currently unfinished, holds immense potential. With the same footprint as the main and lower levels, it offers a blank canvas for you to create a family room, additional bedrooms, or whatever your heart desires. Six high-quality windows on either end of this level provide panoramic views of the farm and garden, inviting you to explore the endless possibilities.
Awe-Inspiring Outdoors
Beyond the comforts of the home, the property itself is a paradise waiting to be explored. A gravel drive leads you through pastures to the attractive home with its eye-catching blue metal roof, setting the tone for what awaits outside.
Picturesque Pastures
The property encompasses gently rolling, fenced pastures that provide an ideal setting for your equine friends or other livestock. Whether you're an experienced farmer or simply appreciate the beauty of open fields, this property offers the perfect backdrop.
A Green Thumb's Dream
Garden enthusiasts will delight in the fenced garden area with raised beds. Grow your own fresh produce and create a garden oasis right outside your door. It's a place where you can reconnect with nature and enjoy the simple pleasure of tending to your garden.
Woodland Wonderland
Mature woodlands surround the property, offering a haven for nature lovers and those seeking adventure. Explore the woods, go for a hike, or simply lose yourself in the natural beauty that abounds. The possibilities are endless.
An Additional Opportunity
Across the road, an additional 66.9 acres of land await your exploration. This land is mostly hardwood timber interspersed with ATV trails, streams, and groves of pine trees. If you're an outdoor enthusiast, this is a paradise for hunting, ATV riding, hiking, or serving as a base camp for a multitude of nearby fishing destinations.
Your Dream Home
The cleared homesite sits directly on Hartwell Road and is spacious enough to allow you to build your dream home or a cozy getaway cabin set back from the road. This property offers endless possibilities, whether you're looking to create a forever home or a weekend retreat
Close to Convenience
While the property offers a private, quiet location, it's only a short 10-15 minute drive to Summers County Hospital and downtown Hinton, the county seat. Here, you'll find restaurants, shops, and services, ensuring you're never too far from the essentials
Embrace Nature's Beauty
Zion Mountain, where this property is nestled, overlooks Bluestone Lake, an ideal spot for fishing, boating, and camping. It's a location that connects you with nature's beauty while providing all the comforts of modern living.
The Final Word
358 Hartwell Rd is more than a property; it's an opportunity to embrace a serene and fulfilling way of life. This article only scratches the surface of what this breathtaking estate has to offer. To truly appreciate its beauty and potential, you need to see it for yourself.
If you're searching for a rural retreat, a place to reconnect with nature, and a home that offers both comfort and potential, 358 Hartwell Rd in Hinton, WV, is your answer. Don't miss the chance to make this stunning property your own.