216 E. Hemlock Avenue Alderson WV 24910
Posted by Moises Martinez on Friday, August 25, 2023 at 2:16 PM
By Moises Martinez / August 25, 2023
Comment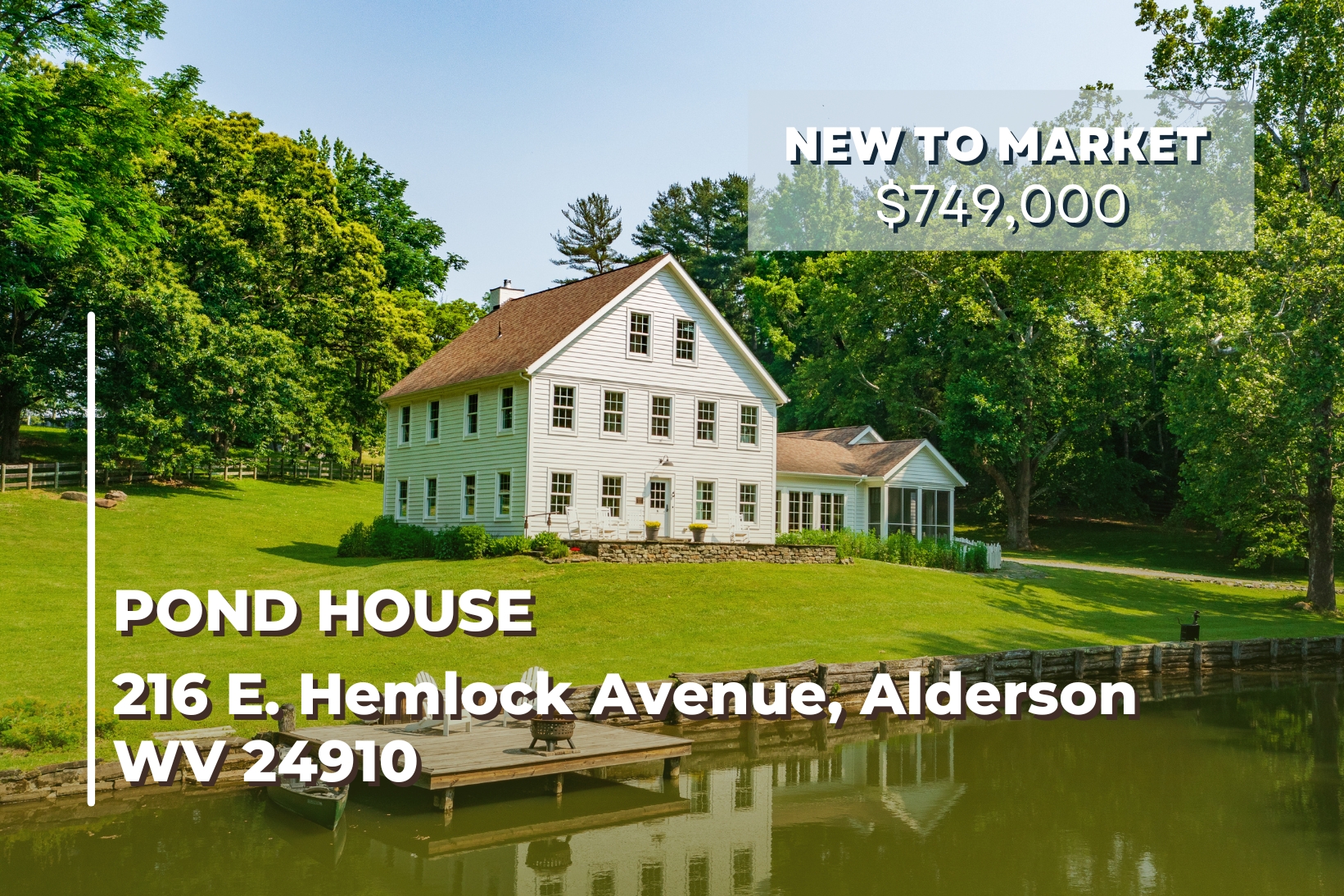 216 E. Hemlock Avenue, Alderson WV 24910
An exceptionally beautiful home in a tranquil country setting, this stylish, comfortable 3-level home features walnut flooring, attractive paneling milled from trees on the property, a cozy living room with a wood-burning fireplace, a library/office, a main level master suite, 3 upper-level bedrooms with 2 additional baths, an attic-level crafts/game room, a 2½-car garage and a large stocked pond.
Nestled within the serene embrace of a tranquil country setting, the Pond House at 216 E. Hemlock Avenue, Alderson WV 24910, stands as a testament to contemporary luxury and architectural brilliance. This stunning residence, designed by the esteemed local architect E. L. Roach and constructed in 2012-13, is not just a dwelling; it's an experience of unparalleled elegance. In this comprehensive guide, we invite you to explore the exquisite details that define this architectural masterpiece and discover how it sets a new standard for refined living.
Embracing Nature's Beauty
As you meander down the winding driveway of this 7.44-acre property, you're immediately captivated by the beauty of the surroundings. The Pond House is perfectly positioned to overlook a spring-fed pond that shimmers like a gem in the heart of the estate. This enchanting water feature is stocked with an array of aquatic life, including koi, bass, carp, and blue gill, enhancing the natural harmony of the setting.
A Design that Elevates
Step inside, and you're welcomed by the warmth of walnut flooring that graces every level of this three-story residence. The main level is a symphony of style and comfort, featuring attractive paneling milled from trees on the property. The living room beckons with a wood-burning fireplace, exuding cozy charm on even the coldest evenings. This room is bathed in the soft glow of track lighting, chosen by the owners to infuse more character than traditional recessed lighting.
Where Elegance Meets Functionality
Adjacent to the living room, the walnut-paneled library/office is a haven of inspiration. With built-in bookcases spanning three walls, this space invites you to immerse yourself in knowledge while indulging in picturesque views of the pond. The heart of any home, the kitchen, boasts gourmet luxury. Stainless-steel and butcher block counters adorn the space, accompanied by clever touches such as repurposed tool storage units and vintage cabinets. The adjoining breakfast room with floor-to-ceiling windows offers a breathtaking panorama of the pond, creating a serene setting for morning rituals.
A Master Suite Oasis
The master suite, adorned with walnut flooring and white paneled walls, emanates a sense of tranquility and space. The master bath echoes this elegance with tiled walls, a pedestal sink, and the same captivating walnut flooring. A main level laundry, mud room, and adjacent half-bath offer convenience without compromising on aesthetics.
Elevated Living Spaces
A graceful walnut staircase ushers you to the second level, where three bedrooms await. Two corner bedrooms, each graced with four windows, offer panoramic views of the front yard, pond, and back yard. The third bedroom, though slightly smaller, retains its allure. A shared bath, adorned with modern amenities, caters to these upper-level abodes.
Versatility on the Third Level
Ascending further, you reach the finished attic, a versatile space that could serve as a grand bedroom, crafts area, or game room. Natural wood paneling and earth tones continue to infuse warmth, creating an ambiance that's both inviting and calming.
A Symphony of Nature and Convenience
The Pond House's beauty is not confined to its interiors alone. Outside, a two-and-a-half-car garage stands as a testament to practicality, complementing the main residence. The property itself is a private haven, adorned with mixed hardwoods and evergreens. Underground utilities ensure uninterrupted comfort in the face of nature's challenges.
Embrace Alderson's Charms
Situated in Alderson, a peaceful riverfront town, the Pond House provides a gateway to an idyllic lifestyle. Alderson offers a seasonal farmer's market, a serene walking path along the river, and a renowned Fourth of July celebration. Nearby Lewisburg, hailed as the Coolest Small Town in America, boasts fine dining, shopping, and year-round entertainment.
The Greenbrier's Allure
For those seeking opulence, the Greenbrier in White Sulphur Springs stands as a testament to luxury. Just 40 minutes away, this sprawling resort spans 11,000 acres and offers an array of attractions, from golf courses to a private casino.
Embrace the Surrounding Nature
Nature enthusiasts are spoiled for choice, with the Greenbrier River and its accompanying trail drawing anglers, kayakers, hikers, and cyclists. For those seeking winter adventures, Snowshoe Ski Resort awaits, a scenic 2-hour drive to the north.
Your Gateway to the World
The Greenbrier Valley Airport, conveniently located a half-hour away, offers daily direct flights to Charlotte, connecting you effortlessly to the wider world.
A Final Invitation
In conclusion, the Pond House at 216 E. Hemlock Avenue, Alderson WV 24910, is not merely a residence; it's an embodiment of refined living amidst nature's splendor. Its architectural magnificence, thoughtful design, and harmonious integration with the surroundings create a haven that's unparalleled. To truly appreciate the allure of this exceptional home, seeing is believing.