200 Twin Oaks Rd Crab Orchard, WV 25827
Posted by Moises Martinez on Tuesday, September 26, 2023 at 4:00 PM
By Moises Martinez / September 26, 2023
Comment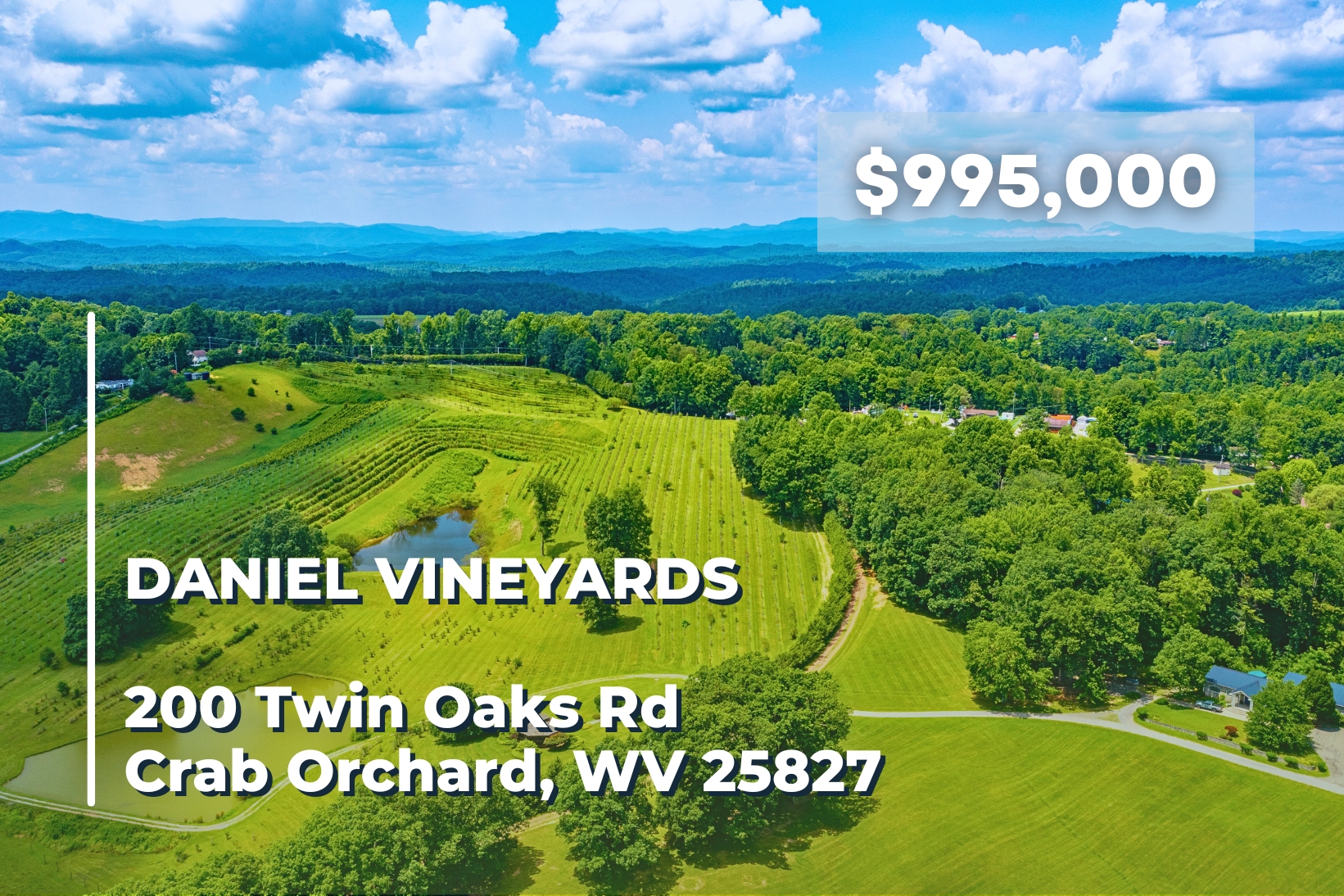 Daniel Vineyards: A Picturesque Winery and Event Center in West Virginia
Daniel Vineyards is a family-owned and operated winery and event center in Crab Orchard, West Virginia. The vineyard was founded in 1990 by Dr. C. Richard Daniel, a retired radiologist. The picturesque property was once a golf course. Still, it has since been transformed into a thriving vineyard with five vineyards, a winery, a tasting room, a large event pavilion, a deck, and a gazebo.
The stylish and spacious stone tasting room includes a full kitchen, enabling wine and food pairings. The turnkey operation also includes production facilities and a 3-bay garage with tractors and vine maintenance equipment. Daniel Vineyards is popular for its weekly lunch specials and as a wedding and event locale.
**A Tour of the Property**
A winding country lane enters the property and leads to the tasting room and production facility. The attractive stone building, with arched windows, a blue metal roof, and an adjacent deck built around shady trees, overlooks panoramic hillside views.
The tasting room includes a circular counter, tables and chairs, a kitchen with an Aga gas range, a commercial sink and plenty of cabinetry, an office, and two restrooms.
The production facility, directly below the tasting room, enables vintner-controlled wine processing and bottling on the grounds. The processing equipment includes a de-stemmer, presses, multiple stainless-steel vats, bottling, corking, capping, and labeling equipment, and product storage rooms.
A large 2-story heated garage is adjacent to the tasting room and production area. The landscaping and maintenance equipment includes two Zetor tractors (one with an enclosed cabin for spraying), forklift and bush hog attachments, two zero-turn 72" mowers, and numerous smaller tools used for vine trimming and weed control. The garage has built-in workbenches, a bathroom, and a small office.
**Outdoor Venues**
Daniel Vineyards is a longtime popular spot for events, large and small family gatherings, and festivals. In addition to the indoor tasting room, there are three outdoor venues.
The most popular is a covered pavilion capable of seating 200, with restrooms attached. Other options include a large octagonal gazebo overlooking two ponds and the hillside vineyards, and the spacious deck adjacent to the tasting room.
**Blueberry Patch and Disc Golf Course**
The property also includes a large blueberry patch, open to the public for seasonal picking, and a 9-hole disc golf course.
**Grape Varieties and Wine Distribution**
Located at an elevation of approximately 2600 feet, the vineyards focus on 15 or so varieties of grapes suitable for colder climates. The wines are self-distributed locally, and throughout West Virginia by Mountain State Beverage Distribution.
**Awards and Recognition**
Daniel Vineyard has twice placed in the top three farms in the West Virginia State Conservation Farm Competition, encompassing 21,400 farms, the only winery and vineyard to do so.
**A Family Tradition**
This beautiful property has been lovingly developed and tended by the Daniel family for over 30 years. Dr. Daniel's grandsons, Chad and Rich, have continued the family tradition and continue to operate the vineyard with the same pride and care as their late grandfather.
**Conclusion**
Daniel Vineyards is a must-visit destination for wine lovers and event planners alike. With its picturesque setting, delicious wines, and variety of venues, Daniel Vineyards is the perfect place to celebrate any occasion or simply enjoy a relaxing day out.